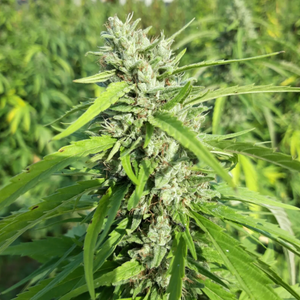 SWISS CANNABINOID/ HGHseed
MATTERHORN CBG (PERUGINA) SEEDS
Sale price Price €25,00 Regular price Unit price / per
Tax not included.
Shipping
calculated at checkout.
Check the Certificate of Analysis here.

Original Breeder:  Matthias Ghidossi | Swiss Cannabinoid
Matterhorn™ CBG is a groundbreaking strain that offers previously unavailable levels of CBG. This strain offers farmers a way to diversify their crops to meet the growing demand for CBG from consumers.
This strain of hemp was created by Swiss-Italian breeder Matthias Ghidossi and has been making waves in the hemp world. With the soaring citrus scent of lemon and lime, it is a prime candidate for extraction as well as a smokable product.
Terpene Profile: Effervescent lemon and lime with skunky notes of hops.
IN THE FIELD
Difficulty: Easy to farm
Resiliency: High 
Compliance: CBG 15%, THC 0.09%
CBG levels in biomass: 6% CBG
Biomass per hectare: Above 1.5 tons
Inflorescence yield: Approx. 200 gr per plant
Best period to sow and harvest: plant from late April and harvest from late September in open field
Seeds quantity per hectare: between 3'000 and 5000 seeds
Recommended space between each plant: depend on the cultivation method and place. If it's open field and early planting keep at least 1.5-1.8 m distance for each plant.

Expect big results when you plant Matterhorn CBG. The reliably low levels of THC make this a natural choice for hemp farmers. The low THC levels also mean that you can leave this in the field to grow while you harvest other strains without the THC levels becoming noncompliant. Matterhorn has two years of field experience and the variety from which it comes is one of the most established hemp strains around. 
COMPLIANCE
CBG levels can be up to 15% and THC levels are an extraordinary 0.09%. The high level of CBG and easy THC compliance make it a good option for farmers looking to get into the CBG market or to diversify. Germination rates are at 95% and feminization rates are 98%, producing one male to every 4000 females.
END PRODUCT DETAILS
Beyond the aesthetic attraction of this varietal, the medicinal potential of CBG is garnering much attention. Because CBG is the precursor, or mother cannabinoid molecule, of all the other cannabinoids, it is being heralded as the next big thing. CBG connects with both CB1 and CB2 receptors and it has the potential to provide relief for many conditions. Scientific research is eagerly looking at this cannabinoid. 
Besides being an ideal candidate for CBG extraction, Matterhorn is also highly smokable. The breeder paid close attention to the terpene profile which is described as having effervescent notes of citrus with notes of lemon and lime.  
HERE YOU CAN FIND THE FREQUENTLY ASKED QUESTIONS